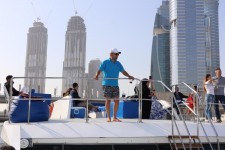 DUBAI, United Arab Emirates, July 13, 2018 (Newswire.com) - In the recent news from the Mala Tours, they have announced to expand their operations of Dhow cruise to Dubai Canal.
Dubai Canal is recently built for the tourists and with this; the Dhow Cruise will get an all-new route where you can cherish your time with delicious food and attractive surroundings. Mala Tours' team is all prepared to welcome you on board.
When in Dubai, not taking a Dhow cruise ride is impossible!
Whoever visits Dubai, having a trip of Dhow Cruise is a must thing. Therefore, Mala Tours has moved a step further and now offering a cruise trip to the newly inaugurated Dubai Canal. The canal is created to enhance the experience of tourists and give them another view of the modern architecture of Dubai.
The distinctive thing about having a trip with Mala Tours on Dhow Cruise is that they have exclusively non-wooden armada for the Dubai canal tour. "Although the cruise is non-wooden, we have taken care of its traditional structure, style, and, the impression that gives refreshing experience to the visitors. We will now be taking the route of the Dubai Canal that is another catchy addition in the Gulf waters. In the night, this environment is something that you can never forget": said, Yacht Manager.
"The crew onboard is all facilitated with the knowledge of the how-to guide and treat the travelers. From food to the music, you will find everything marvelous as Mala Tours do not compromise on the quality of their services. We suggest you book your place on a cruise today as we are already packed with the bookings", told the booking officer at Mala Tours.
About Mala Tours
One of the leading names in the destination tourism industry of Dubai, Mala Yacht has its ranking on the top. Consist of the highly adept and conversant team; the staff is always available to direct you with precise information.
Not only in Dubai, but you can avail the services of Mala Yacht in other cities of UAE as well. You can get services of Dubai tours, yacht tours, Dhow cruise tours, etc. via Mala Tours.
Source: Mala.ae
Share: